Croc's Nest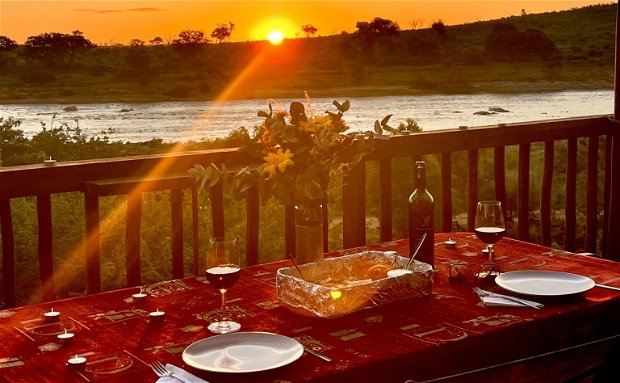 CROC'S NEST
Croc's Nest Bush Lodge is a newly-built natural wooden, 3-bedroomed, 4-bathroom, eco-friendly, bush house, directly overlooking the Crocodile River providing the most spectacular view into the world-famous Kruger National Park.
All three bedrooms have ensuite bathrooms and air conditioning and their own access to private balconies. There is a large open-plan lounge and kitchen which is fully equipped for self-catering. The viewing decks offer a 180-degree vista which can only be described as mesmerizing. There is a cool infinity pool overlooking the natural landscapes and the outside fire feature.
Croc's Nest is situated in the ecological paradise that is Marloth Park where man uniquely co-exists alongside the animal kingdom. The view from the house is of the Kruger National Park running down to its Crocodile River boundary and the Park entrance gate is only a mere 25 minutes' drive away. It is however quite possible that you will see all of the big five without even leaving the viewing deck.
This beautiful riverside spot presents a rich variety of both woodland & riverine birdlife and there is the possibility of spotting many of the birds native to Kruger Park (of which there are over 500 species). A few minutes' walk takes you to Marloth Park's own 'Bee-Eater' bird-hide providing closer views of the river's visitors. For those who prefer to stay put enjoying a morning coffee, the house's wrap-around decks afford excellent viewing of the birdlife, and game, frequenting the immediate surrounds.
For the wildlife enthusiast there is a wealth of plains game roaming around Marloth Park many of which pay daily visits, including giraffe, zebra, kudu, warthog, impala, bushbuck, monkey, waterbuck, wildebeest, mongoose and many others. Having a sundowner as another sun sinks directly in front of Croc's Nest over the river is a breath-taking experience. Late evening you may well see our resident bushbabies leaping through the trees,
Once the sun sets and the moon and stars come out to shine, the ambience of Croc's Nest with its beautiful soft lighting will warm the heart and soul. Complemented by sounds of crickets, wallowing hippos and the woodland kingfisher, this truly is a unique experience not to be missed. 
Croc's Nest Bush Lodge has solar water heaters & tree lights and also a backup generator in case of any electricity disruptions so there is always power at the house. 
The house is situated just 5 minutes from two of the best restaurants in Marloth; Amazing River View and Jabula Lodge, serving breakfast lunch and dinner. There is also a nearby petrol station and adjacent are several shops at the Bush Center or Marlothi Center.
For a further spot of adventure you can arrange guided 4x4 wildlife safaris into Kruger Park  or you can enjoy quad bike drives or full-day guided tours to the famous Panorama Route, Swaziland or Maputo (the border posts being just 30 km from Marloth Park)..
*** PLEASE NOTE THAT AS CROC'S NEST IS INTENDED FOR THOSE WANTING QUIET & PEACEFUL ENJOYMENT OF THE BEAUTIFUL SOUTH AFRICAN BUSH WE ASK FOR A REFUNDABLE NOISE DEPOSIT OF 1 NIGHT'S COST (R3000)
Rates
07 Mar 2023 - 14 Dec 2023
R3500.00
Per Unit
Per Night
Booking Terms
In the event of premature departure we may charge for the full original booking.
Cancellation 0 - 14 days before date of arrival, or no-show – visitor forfeits 100% of total cost paid.
Cancellation 15 - 28 days before date of arrival – visitor forfeits 75% of deposit paid or 25% of full quote value (whichever greater).
Cancellation 29 days before date of arrival – visitor forfeits 50% of deposit paid or 25% of full quote value (whichever greater).
Cancellation 30+ days before date of arrival – visitor forfeits 25% of deposit paid or 20% of full quote value (whichever greater).
On receipt of a written instruction to cancel the reservation, the applicable amount will be refunded as determined by the cancellation terms of the establishment, within 3 working days. Manzini levies a 7.5% administration fee on any refunds processed. Should refunds to a SWIFT bank account be required, an additional R250 charge will be levied.