Swaziland Day Trip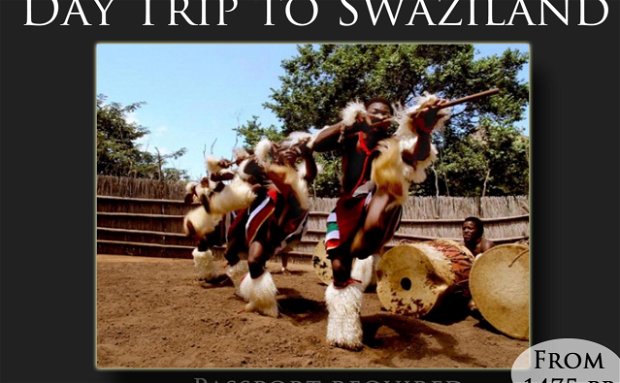 Kingdom of Swaziland (Ezulwini Valley) Day Tour: Gorgeous, energetic and absolutely attractive, the Kingdom of Swaziland is a most diverse tourism destination. Revel in the experience as you travel through the breath taking mountains, open-spaces of the savannahs and interact with the heartfelt, welcoming people of Swaziland.
Please note: Passports essentials. No visa is required for entry into the Kingdom of Swaziland by passport holders from most countries (please check with us at time of booking).
Itinerary
Adventure packed, Kingdom of Swaziland (Ezulwini Valley) Day Tour
Collection from your accommodation in Marloth Park at 06:00am.

Provided packed breakfast and snacks, cool drink and water during tour.
Travel to the Jeppe's Reef border post.
Visit the Swazi Cultural Village for show.
Travel via Jeppe's Reefs.
Visit Maguga Dam.
Visit the Glass Blowing Factory.
Take the route to Ezulwini Valley.
Take away light lunch at Spur/Kentucky (for clients account).
Visit crafts market in Ezulwini Valley.
Continue to Malkerns to visit the candle factory and various shops.
Return at 14h00 via Manzini in Swaziland via MR5 & MR6 to be at border post 17h00
Return back to your Manzini accommodation within Marloth Park.